What I love most about my job is taking a client on an adventure through the incredible region of Andalucía.
Exploring the towns and villages that make this place so special. Visiting beautifully renovated village houses and others, which have so much potential, but need an owner with the time and motivation to make it a home.
This month I got to do just that with a wonderful client who wanted to buy a home in a traditional and authentic Andalusian village.
Her brief was to find a home that she could live in a few months a year and rent out during the periods she was back in the UK. Having spent time in Granada and having a grounded knowledge of Spanish, she wanted to live a more authentic lifestyle here.
She knew some parts of Andalucía but not well enough to make an immediate decision on the location, so we spent time working together virtually, discussing different locations and their merits.
When I start to work with clients it's my job to find out what makes them tick: what attracts them to a location or turns them off. And based on this feedback I prepare a shortlist of potential locations, towns or villages, which offer everything they want from their home in Spain.
My shortlist maps out the locations, I share my personal view on each place, along with independent articles, photos and videos, which gives them a good overview of each. I also show them a sample of properties available in the area, so they can compare the location with the property, and prices in the area.
Then it's up to you to decide on a final shortlist of places to visit during your trip. This is exactly what I did with my latest client who chose Velez Malaga and Álora in the province of Málaga and Jimena de la Frontera in Cádiz as her top three places of in interest.
We prepared the schedule, the route and I set to work on speaking to trusted real estate professionals in each area to scout out the best properties to view during the visit.
It's always a great moment when I meet my client's in person for the first time. Unlike a cold introduction to a real estate agent, I build a relationship with my clients on the run-up to their visit. We have already formed a bond before you arrive. And when you do, we have fun!
This is the moment you have been waiting for. All of the research has been done in advance, so you just have to arrive and explore!
And off we went! After meeting over a hearty desayuno (breakfast).
Day One: the Axarquia
Our journey started out to the east of Málaga city in the Axarquia region, where the varied landscape features almond orchards, mountains, lush rivers valleys filled with groves of oranges, lemons, mangos, avocado, eucalyptus and mas!
Our first stop was a gorgeously renovated property in the peaceful hamlet of Triana, a lovely community just 12 minutes drive from Velez Malaga. The area was a perfect combination of light, space and tranquillity.
Next, we headed off into the hills above Rincon de la Victoria, where we visited the village of Moclinejo with its immaculate cobbled streets, bright mosaic street signs and incredible views to the Mediterranean. Stunning!
Enjoying a central location in the town's main plaza (square) was a wonderfully spacious rustic property. We entered through the old antique doorway into a lovely patio courtyard which overlooked the square. It was easy to imagine balmy nights on this terrace, enjoying dinner and the ambience of people dining out in the square.
The house was decorated in the blue and white palette, typical of restored homes in the region. And the icing literally on top of the property was a roomy roof terrace with amazing views to the sea and coastline.
This was a definite contender!
Next stop was Los Romanes, a tiny overlooking Lake Viñuela (check out the top photo for the incredible view from the property).
This village house even had its own little plunge pool on the terrace, which was planted with an ancient lemon tree, grapevines and bougainvillaea. And those views! From views to the Mediterranean to views to the turquoise hues of Lake Viñuela.
We had a very exciting drive from Los Romanes down to the valley town of Bernamagosa. Google decided to take us along a rough track which clutched the high sides of the valley and made us gasp in places, where looked straight down to the bottom. Thankfully we didn't pass a car coming in the other direction on the way up!
In Bernamagosa, we visited a three-storey village house, divided into three separate apartments – perfect as a holiday rental. The top apartment had been occupied by 'okupas' (squatters) and needed completely gutting, but the space was perfect for renting.
Bernamagosa itself is a friendly, vibrant town with all amenities on your doorstep. Although it has a growing expat community, it still very much retains it's Andalusian character.
Our day finished off where we started out, in Velez Malaga. This beautiful city, situated just seven kilometres from the coastal town of Torre del Mar is a compact version of Malaga city, with its historic centre and charming neighbourhoods to explore.
Properties in Velez Malaga are well priced compared to Malaga capital, and the town so well positioned that this is an excellent location to purchase if you want to be close to the sea and airport, but want to enjoy a more authentic lifestyle, as Velez Malaga is still relatively off the expat radar.
What a day! Peaceful hamlets, mountain villages with sea views and an authentic mini capital. What would day two bring us?
Day Two: Álora
Day two and we headed into the heart of the Guadalhorce Valley; to the pretty hilltop town of Álora. In the heart of town, you'll find everything you need within easy walking distance: a panadería (bakery), frutería (fruit and veg), carnicería (meat), pescaderia (fish). In Álora you can happily apoyar (support) your local independent traders without the need of a large chain supermarket. Isn't that part of the beauty of moving to a village in Andalucía?
The town was buzzing for a Saturday morning in mid-October. There is a wonderful community feel, as well as plenty of day-trippers to add to the vibe.
Álora is an excellent option if you are looking for a short-term rental investment. It's situated close to the Caminito del Rey, El Chorro and the area is renowned for its climbing. What's more, there is a train station in Álora that takes you into Málaga, perfect! I has easy access by train and by road from Málaga city and Málaga airport.
We viewed several village townhouses in Álora with a wonderful local agent who is one of my go-to agents in the area – I only work with the best. We viewed a mix of completely renovated properties, ready to move straight into and project homes that were structurally sound, but needed a personal touch to turn them into an ideal Andalusian home.
What they all had were patios and roof terraces with the most incredible views to Álora castle and the surrounding countryside. We could just picture wonderful dinners with friends and family, admiring the views and the sunset.
We left Álora feeling very upbeat. Here we had found good properties, a great location and all at a very reasonable purchase price. Here we shortlisted two great potential homes.
Day Three: Jimena de la Frontera
Day three. Our final day and I was up at the crack of dawn to drive from Mijas Costa (where I live) to meet my client at 9am in the protected town of Jimena de la Frontera.
Situated in Cádiz province, around 20 minutes from Sotogrande (Gibraltar is the nearest airport) and on the border of the beautiful Alcornocales Natural Park, Jimena de la Frontera is traditional, protected whitewashed Andalusian town, with an old historic centre and a newer area on the fringe, where there are schools and businesses.
Just outside of town in the suburb of Los Angeles there is a train station that travels from Granada to Ronda and down to Algeciras.
Jimena de la Frontera was somewhat of a wild card town. My client had shortlisted two towns out of my recommendations that were outside of the Malaga province. One was Alhama de Granada and the second was Jimena de la Frontera. In the end she went for Jimena, based on style of property, location and perhaps a little touch of intuition.
We had a great and very cheap breakfast and met the lovely agent at 9.30am. During breakfast I asked my client what she thought of Jimena. She had stayed a night in each place before we viewed together. I always ask my clients to do this, so I don't influence their initial view of a place. She told me that she found it peaceful, a great place to focus on work and herself, which was important for her.
We had originally four properties to view, but the day before the agent had called me to say one property had dropped in price from 169,000 € to 135,000 € – just within my client's budget – and it was worth seeing. Add it to the list, I said!
We viewed two great properties – one completely renovated and one completely unique – beautifully decorated and furnished by a very creative owner, the next two weren't for my client.
And then we arrived at the fifth, the one that had been added the day before. We knew the minute we walked in, that it was the one. Beautifully refurbished, spacious and an incredible roof terrace with room to dine, chill out and even add an outdoor Jacuzzi spa.
The roof terrace actually had a door out to the upper street and from there a short stroll took you to a river walk. There was a little local supermarket and three tapas bars close by. It really was ideal for what my client wanted.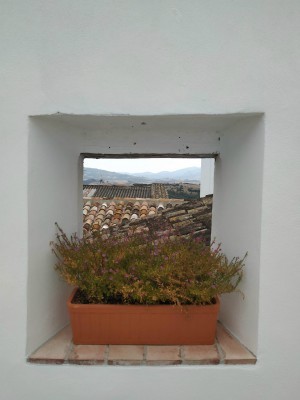 I took my client for a coffee and we went through our three days together. We looked at the pros and cons of each property and had three shortlisted, each with its own merit and short term rental potential.
I could see that my client had fallen in love with this house, so we called the agent and put in an offer right then and there and it was accepted! We knew we had back up properties if this one fell through. My client and I had spent three days travelling Andalucía in a gap in Covid lockdown and she had found the Andalusian property of her dreams.
The next and final day, on the way back to Málaga airport I took my client to meet Javier, my incredibly professional recommended lawyer who organised power of attorney to handle the purchase whilst she was back in the UK.
This is just one of the incredible adventures I have experienced with my clients. I love every minute of what I do. We have so much fun exploring Andalucía, but we can only do this, because of the preliminary investigation and research I do, before you arrive. Everything is planned in advance, so you can arrive, explore, view properties and go home having not wasted a minute of your time.
Get in touch for a free consultation if you are considering purchasing a home in Spain.